"Cape Care Charity recognizes the importance of bringing some fun to children who have nothing."
New Directions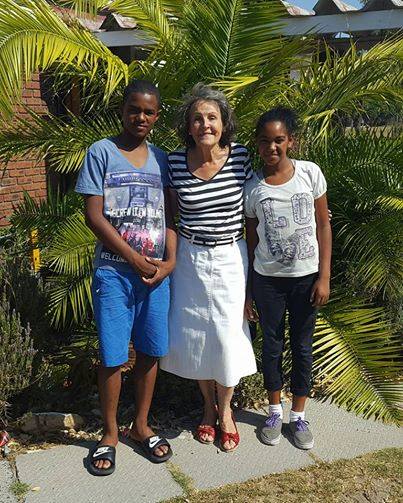 Cape Care Charity has taken an exciting new direction. After years of assisting families in need, especially people who were living in informal settlements, I realized that Night Shelters and similar NGO's were better equipped to offer help in that respect. In the meanwhile, Cape Care Charity came across children who desperately wanted a better future than what their parents were able to give.
The past three years have been marvelously enriching for everyone involved with Cape Care Charity; the sponsors, the donors, the volunteer and of course all the children. Our growing family has welcomed many new friends. We will be introducing them and their wondrous works on a regular basis.
Hugs to all

Marina (Director)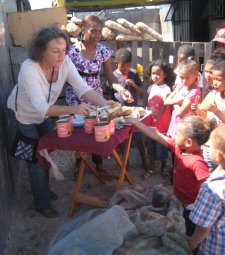 Our Work
Cape Care Charity has for many years assisted wherever possible. Today this assistance consists mainly of helping children who have a burning desire to educate themselves, and by doing so have the means to create a better life for themselves.
Children sponsored by Cape Care Charity
Giving an opportunity to children with the desire to improve their lives and get out of Blikkiesdorp impoverishment.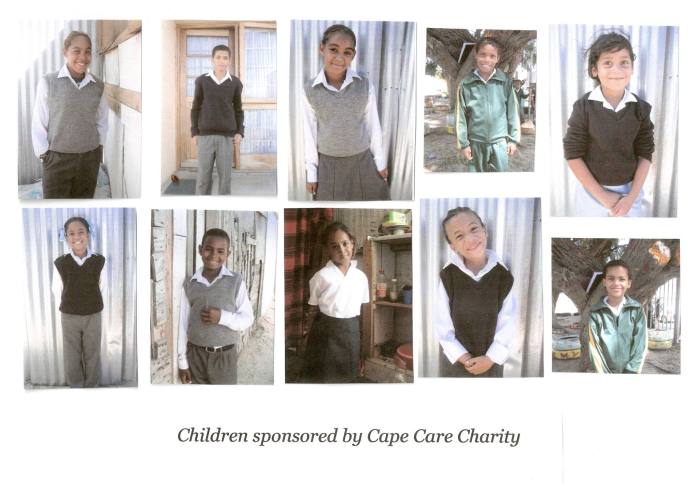 Little Georgia
Gorgeous little Georgia, so positive and friendly, shares a 4 x 6m tin shack in Blikkiesdorp informal settlement together with six other children, three adults, and two dogs. Their outdoor toilet is shared by 9 other people. Yet their humble home is immaculately clean.
Cape Care Charity introduced Georgia to Carmen from Holland. They bonded immediately and Carmen has undertaken to offer full sponsorship for Georgia. They now keep in touch through Cape Care Charity.
Layla from Athlone
Layla from Athlone endears herself to everyone who meets her. Her mind is quick, her memory sharp and she loves to talk! Her teacher introduced Layla to Cape Care Charity. Layla needed help. It was winter and Layla only had sandals to wear and no warm clothes. We took Layla shopping and received so much gratitude in return. The story unfolded and Cape Care Charity got in touch with our Friends In the UK. Help arrived. Both with payments for school fees as well as more winter clothes.
Layla is enjoying half sponsorship. A Big Thank You to our Cape Care Charity Friends in the UK.
Would you like to sponsor a child?
It is quite magical to follow a child's progress when given the chance. Cape Care Charity is continuously finding children worthy of a sponsor. Every child comes from very difficult circumstances. In spite of that every chosen child shows an eagerness and aptitude for betterment.
If you would wish to learn more please contact Cape Care Charity to discuss costs and duration of sponsorship.
Layla's Smile
What would the world be without happy smiles?
Vivacious Layla from Athlone had a lifelong dream to have her four missing front teeth replaced, to be able to smile as wide as her personality wanted.Cape Care Charity contacted prosthodontist Dr Ian Grundlingh who accepted to give Layla her smile.
A huge thank you to Dr Ian Grundlingh for a wonderful gift of a beautiful smile for Layla.







Delivering Donations
Wonderful day delivering donations from our Cape Care Charity friends in England.
Among the donations were: reading glasses to grandparents who help their grandchildren with their school work, scarves to keep the kids warm, and a baby's first teddy bear to a lucky new member of Blikkiesdorp shantytown. And also items for helping the bedridden.
Marina received a big hug of thank you. That hug now goes back to our super Cape Care Charity friends in England.
Everything is enormously appreciated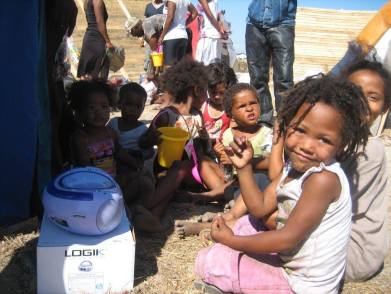 Often in Blikkiesdorp, parents cannot afford to send their children to Early childhood development centers or Creche, leaving their children to their own devices until they are able to enter the public schooling system. Hence many of these children enter into Primary school without any exposure to formal education.
Cape Care Charity has therefore donated CD players with Education CD's for these young children to listen to. The CD's consist of Education stories and counting skills songs.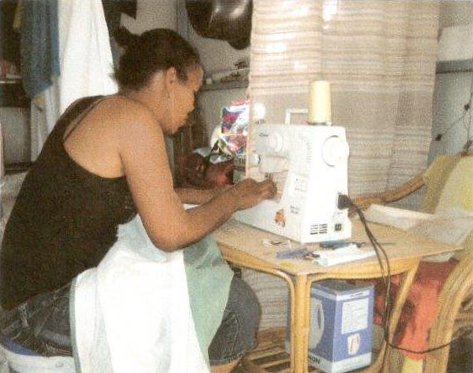 Amelia Eksteen proved to be a wonderful seamstress. From all the textile materials donated for curtains, sheets, and pillow slips she decorated her own shack as well as all the others' who were forced to move from Kapteinsklip to Blikkiesdorp. Amelia is now sewing beautiful shopping bags, dresses, children's clothes on a sewing machine donated by Cape Care Charity. During summer months Amelia will be able to open a street stall. Cape Care Charity will — with the help of donations — continue to provide Amelia with sewing material as well as timber pieces. Amelia has built her own bed and cupboards. Entering her shack in Blikkiesdorp is an amazing experience. You are transformed into another world, a haven from the drugs, the crime, and the total hopelessness. Cape Care Charity aims to get Amelia a proper home. She will be able to sustain it with her talent and her resilience.