Thank You For Supporting Cape Care Charity!
Our Motto: "From your hand to their hands"
We have three channels you can donate through, please see below. Thank you for your care!
Bank Transfer Donation
If you would like to make a donation through a bank transfer please use these bank details:
Cape Care Charity NPC

Reg.No.2008/025808/08

First National Bank

Physical Address: 137 Main Road, Plumstead 7800, Cape Town, South Africa

Branch code: 201 109

Acc. No: 6223 2729 436

Swift Code for international donors: FIRNZAJJ
Online Donation
For our international donors:
Online Donation
Join the MySchool MyVillage MyPlanet Program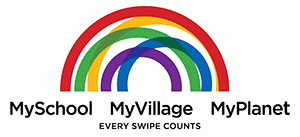 As a beneficiary of My School, My Village, My Planet program , Cape Care Charity receives monthly a small percentage of the amount spent by its supporters who purchase at Woolworths, Engen, Loot, Bidvest, Waltons, or Flight Centre using the program's special free card. This monthly amount is crucial to cover the cost of the children's education.
There is no cost whatsoever to the supporter, just an automatic donation from the companies' profit. Please consider joining this very worthwhile project and making Cape Care Charity your beneficiary. Thank you!
To Join the Program